Aluminium Clad Tilt and Turn Timber Windows from 'Choices'
Double and Triple Glazed Aluminium Clad Tilt and Turn Timber Window from 'Choices'
Offered as double and triple glazed options, Choices Aluminium Clad Tilt and Turn windows are supplied fully finished and are available in a range of different configurations. Frame widths are offered in either 80mm or 92mm.
This is a high performance triple glazed window system manufactured from the highest quality Engineered Redwood, oak or meranti with an aluminium/timber composite frame and an aluminium clad timber sash.
They are all custom-made and can therefore incorporate more unusual designs and shapes. Our high performance inward opening, tilt & turn windows have an external aluminium cladding which provides a strong, durable external surface requiring minimal maintenance. This reduces future costs and improves the life expectancy of the product.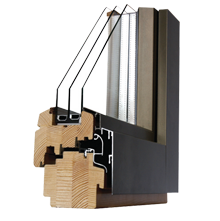 Specification
Timber only option available
Engineered (laminated) timber profiles
Pine or Oak
Factory applied paint/clear lacquer/white tone lacquer options internally
Tilt & turn, tilt only or turn only - all inward opening
Circumferential fittings with tilt ventilation
Factory fitted 24mm double glazing or 40mm triple glazing
Internally beaded
Overall U-value of (approx.) 1.2W/m2K - double glazed or 0.9W/m2K - triple glazed
Shaped opening windows possible
Durable external aluminium cladding
PAS24 option available
High quality equals high performance
Our Aluminium Clad Tilt and Turn windows are manufactured using high-end, quality materials such as engineered Redwood, oak and meranti. These are finished off using an aluminium or timber composite frame alongside a timber sash clad with aluminium. All are made to order which means we're able to take on more unusual designs and shapes.
In addition, to ensure that the windows are protected against the weather at the highest level, a weather strip is compressed onto the frame itself by the sash, giving it the perfect protection against wind and rain.
An added bonus of the Aluminium Clad Tilt and Turn windows is that as well as being able to tilt by rotating the handle, you are also able to turn the window inwards to create a larger opening which aids cleaning of the outside glass and frame. Our Timber Storm windows are available as side or top hung and offer high performance to help protect against the elements.